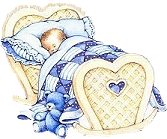 Announcing the birth of Tarryn Lockyer. My regular readers all know my great-nephew, Griffyn, who just turned one on June 28th. Well, Griffyn now has a new brother. Tarryn was born by scheduled C-section just before 12pm August 1st. He weighed in at 9 lbs 5 ounces - definitely a big boy. His parents report that he has lots of beautiful dark hair.
Both Tarryn and Melissa are doing well. I don't have a photo of Tarryn yet, but will post one as soon as one is available. Have a wonderful weekend. ~Blessings, Mary~
Update: The new Mom just called me and she is plum tuckered out. She told me that Tarryn has dark brown hair and lots of it and that he measured 22 inches long. She's glad that it's over and that he is healthy, though he's been a bit fussy.
This makes seven times I've been a great-aunt. Four great-nieces and three great-nephews.
And if you would like a baby of your very own, meet Son_Shine.
Denise over at Sew the Word is giving this beautiful doll away. Please drop by and add your name to the pot. The draw will be on Sunday. Guaranteed this baby doesn't wake up crying in the night, nor does it need diaper changes. That is the kind of baby that I want in my home.