It's time for Show and Tell Friday. If you would like to participate, drop over to Kelli's at
There's No Place Like Home
.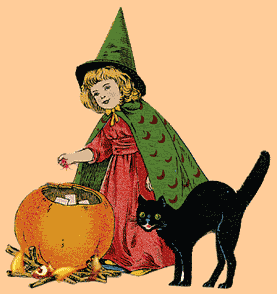 Guess what! I've been booed - twice. The first time by Peggy at Hidden Haven Homestead and the second time by Storyteller at Small Reflections. Thanks for the Halloween fun, Ladies.
The rules say I'm supposed to pass this on, but as it's already Halloween, I'll just offer this to anyone who hasn't been booed yet.
In honor of trick or treating, I am going to show you a few postcards from my collection. I hope you enjoy.
I hope you enjoyed my display for Show & Tell this week.
I would like to present each of my friends and readers with a little Halloween treat. Please accept the Halloween button that I made below and you are also welcome to choose one of the postcards. Enjoy!

Be sure to take a few minutes to stop by and visit my friend, Pea at Pea's Corner. She is having a Halloween Bash and her parties are the BEST.
I hope you all have a great Halloween. Whether you are handing out treats at the door, taking your kids trick or treating or going to a costume party, stay alert and be safe. ~Blessings, Mary~