The mail lady must have wondered if Christmas had came early this morning when she delivered our mail. Hubby came into the house with this beautiful pink package.
A few weeks ago, Stephanie at
Mississippi Songbird
had a giveaway. I entered and lo and behold, I won.
Inside the parcel was this little Avon box that said, Avon Breast Cancer Crusade.

Inside was a beautiful breast cancer Christmas decoration and a breast cancer key chain. They are beautiful!
That wasn't all the mail I received today. There were more envelopes and one large one. Remember the card shower that I'm putting on for my soldier that I write to through Angels n' Camouflage? Well the cards are beginning to roll in. Yesterday I received some and then again today.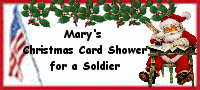 These are the cards that I've received so far. Thank you Pea, Tipper and Susie. I so appreciate your love and support for S. She will be thrilled when all of these cards reaches her just before Christmas.




As the cards come in, I will post frequent updates. Just before I mail them out to S, I will remove them from their envelopes and take a photo so you can all see how beautiful they are.

If you would like to participate in the card shower, there's still time. Just make or buy a Christmas card for S, who is a young deployed American female soldier. Find instructions just under my blog header. Your participation will be very much appreciated.



Congratulations to Barack Obama for winning the election and becoming the President Elect of the US. I saw his speech and thought he did a marvelous job of expressing his feelings about his dream for America. I will pray for this man and for the United States.

I also saw John McCain's speech congratulating Mr. Obama on his win and I thought he did an excellent job. I would also like to congratulate the people of the US for exercising their right to vote. No matter who you voted for, the important thing is, you voted. My prayers are with your country as you make the transition from President Bush to President Obama. May God Bless America at this time in history.

~Blessings, Mary~