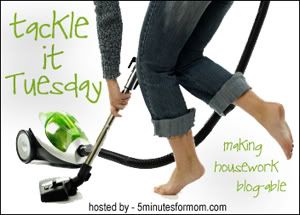 Today hubby took the boys to see a movie. That is a first. We usually all go, but I had no interest in Transformers and so sent the guys off to bond while watching it.
As soon as they left, I started going through my kitchen cupboards. I couldn't believe the stuff that was in there that I hadn't used for a long time. I put some in the recycling bin, some in the garbage and some in a bag for charity. Then I washed the insides of the cupboards down and reorganized everything.
I have very little counter space as it is and with the cupboards hoarding unnecessary things, I had no where to put anything. That left the counter full of clutter. Now the counter is clear of all clutter and the space is reclaimed. It's something that really needed doing.
When the guys got home, they told me what a great movie it was. I'm glad they enjoyed it. They thought the kitchen looked 100% better. They had asked me what I was going to do while they were gone and I told them I was going to take a nap. They sure were surprised to see I'd been working and reorganizing the entire time, and it feels great to have a clutter-free counter.
Do you have a project that you're tackling right now? If so, be sure to check out
5 minutes for Mom
and join in the fun.