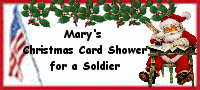 I'd like to thank everyone who sent a card for my Soldier's card shower. I received 32 cards and I know that S is going to love them.
As promised, I entered everyone's name who sent a card for S into a draw. The winner is Susie from
Susie's Space
. Susie, please forward your address so I can get your Christmas ornament in the mail. Enjoy!
~Blessings, Mary~