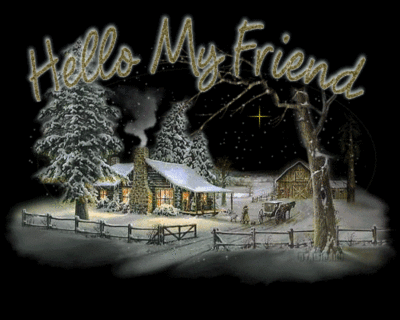 MyNiceSpace.com
About midnight on Tueday, it began to snow and it has continued to snow ever since. We have a nice bit of fresh white stuff to cover the dirty snow that fell last week. We have quite a pile on our lawn and it is still snowing. I'm hoping it stops soon.
Michelle called today and she was in a pickle. They had called her into work and she had the TV repairman coming. She wanted to know if I could come and stay until he got there.
I looked out the window and winced. I really didn't want to go and I told her so, but of course I agreed. After all, what is family for, if not to help out when it's needed. So, I got ready and headed out.
The roads were in deplorable shape. I drove only about 40 km per hour, and everyone else was going about the same speed. I saw no speeders, which is an indication of how bad the roads really were. Even the main roads had not been touched by sand or a snow plow. Go figure. I had been snowing for over 12 hours and the city hadn't sent out the trucks. Since they didn't allow enough money in their budget for the 125 centimeters of snow we've received this year, I suppose that had something to do with it. With no money left in the coiffers, they will be going in the red. What were they thinking? We live in Canada and Canada is well known around the world for snow. However, since there was a decade or so that we didn't get a lot of snow, they seem to think we're not going to get any now.
Anyway, instead of the usual seven minutes, it took me 15 minutes to get to Michelle's. She left for work but not before informing me that the boys didn't have their key. She thought she would be home and there was no need for it. I told her I'd stay and make sure they arrived home safely.
She had only been gone a few minutes when the phone rang. It was the TV repair people. Their man was stuck on the 401 Highway and he wasn't going to be able to make it. Could they come Friday?
At that point, I decided to come home. Hubby said that he would go and pick the boys up from school so I could work on my writing. I was thankful, as when I got out onto the roads, they were even more slick than they'd been when I was driving over there.
Hubby picked up the boys and got them safely home. Brandon phoned to let me know that Grandpa was on his way home. Everyone is safe and sound. The boys' Dad got home about 4pm and Michelle got home about 6:30. She said the roads were better when she came home because the snow plows had gone.
If you live in an area that is receiving snow or in one of the states that has received freezing rain, only go out if absolutely necessary. Be sure to have a emergency kit and a flashlight in your car. Stay safe and be warm. ~Blessings, Mary~