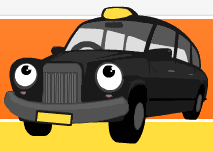 I've been asked to tell a few tales from my life as a taxi driver. Some of the tales aren't fit to tell. The life of a taxi driver is not an easy one. You have to put up with all kinds of people. You meet people from all walks of life and from all cultures. You are really vunerable, especially on the swing or night shifts.
I began driving taxi in 1982. First I drove in a little town not far from here. Then, I decided to get a taxi licence in the city I lived in. I succeeded the first try and yes, you do have to take an examination and have a perfect driving record.
In 1984, I bought a used car and took on the life of an owner-operator taxi driver. That meant all the money taken in was mine. Now that might sound great, but there was the taxi licence to pay for, weekly rent to the taxi office, which paid for the calls I received and also for having use of their name, radio and taxi light that was placed on the roof of my car. It could be taken off when using it for a private vehicle. It was attached by bungee cords. The other thing required was commercial insurance. At that time it went for $2000 a year. Big payments for a small town cabbie.
So that gives you some idea of what I went through just to get started. I worked the swing shift, which started at 11am and ended the next morning at 2am. Yes, they were 15 hour shifts. If things were slow, someone could book off early, but at that time I was a single mother and usually stayed. If it was busy, I would stay beyond my shift in order to bring in a few extra dollars.
A police call is a call that the dispatcher sends out to you when the police are involved and it seemed that I was always in the place to take these calls. Everyone hated them. You are going to pick up someone that has been involved with the police. He hasn't been arrested but usually has been charged. He often has been drinking and the police are sending him home by taxi. He's in a foul mood to begin with and not always easy to handle.
The call I'm going to tell you about today, was not a police call. It was a call where I picked up two elderly men. They were inebriated and were calling me names, laughing and being rather cruel. They wouldn't keep their hands off me, which is something I didn't tolerate. We came to a main intersection and I had had enough. I slammed on the brakes. I do mean slammed. The head of the man in the front seat bounced off the dashboard and the man in the backseat slammed against the passenger front seat.
I shoved the car into park, turned off the ignition, opened my door, got out, went around the car and opened the door. "Out," I said.
"But you can't throw us out," the man mumbled in a drunken voice.
"I can and I am," I declared. "You got five seconds to get your butts out of the car or I'm calling the police."
The men vacated the car and though I didn't get paid, it was worth it to just get rid of them. I wasn't about to take that kind of abuse from anyone and certainly not from a couple of drunken old men.
Another time, I will share another experience I had that was just a little more dangerous than this one. I could actually write a book, but wouldn't want my friends to read it because of the mature content.
Hope you enjoyed this peek into my life as a taxi driver. Have a great week and remember to take time for yourself. ~Blessings, Mary~