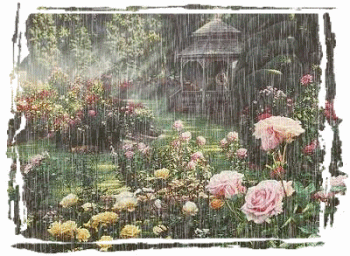 This is much what it looked like here all morning and until 2:30 this afternoon. Yeap, pouring rain. We did need it though and it will definitely give the vegetable garden a kick start. The lettuce is doing very well, but the tomatoes needed a good drink. I'm sure that they will begin to grow more now since I had just put fertilizer on them a couple of days ago.
Not much doing around here these days to post about. Just the usual. I picked the boys up from school today and went to their house and made banana milkshakes for them. That was a treat because they don't often get milkshakes. Brandon asked me if I knew how to make a smoothie and I told him I did. He said maybe next time they could have those. That would be a great treat on a hot day. Frozen blueberries make a great smoothie, as do other fruits and the benefit of a smoothie is that you get the real fruit instead of concentrate.
So the next time the boys need a cool drink on a hot day, I'll be busy making smoothies. They're healthier than milkshakes and very refreshing.