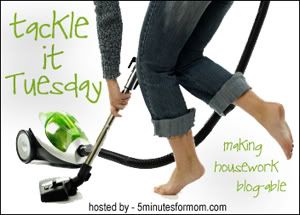 Tackle it Tuesday is a day when we show or tell about a project that we've completed. As you all know, we've been up to our ears in renovations, which has included drywall and sanding dry wall mud, which is a very dusty business. I didn't realize that the dust had penetrated our apartment so badly until tonight (Monday) when I walked into the computer room and saw something that hadn't caught my attention before. My old fashioned walnut washstand, which houses my dog collection was buried in dust as well as things that didn't belong there. This is what I saw:
Quite a mess, isn't it? All of the white dust on the washstand is dust that has sifted through the house while we've been renovating. I haven't dusted this area since we started the renovations. So, I decided I'd tackle this for Tackle it Tuesday.
With a little elbow grease, a dry dust cloth for the washstand, a wet dustcloth and a dry one for the dogs and a can of Pled*ge, this was the result just 20 minutes later.
What a difference a few minutes makes. When I was done, I resolved to tackle more jobs for Tackle it Tuesday. This is one small task completed for the time being and it is one corner of the house that isn't covered in dust.
If you would like to participate in Tackle it Tuesday, follow this link to 5 Minutes for Mom. It's a great incentive to tackle both big and small household chores.
Have a great Tuesday and remember to do a kindness that will make someone smile. ~Blessings, Mary~