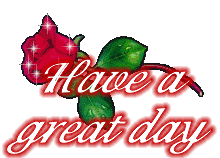 Well, it's been quite a week and I know a few of you found me AWOL. From the 24th until today, I've been having major computer problems. On the 24th, I was told by my ISP support tech that my modem had gone to modem heaven. He ordered one and told me it would be here on Monday.
Monday morning at 10am, the Purolator truck pulled up to our neighbour's across the street. I told hubby that was our modem. He said that couldn't be. However, three days later, the modem still hadn't arrived, so on Thursday I called my ISP. The guy tracked the modem and found that it had indeed been delivered to our neighbour's on Monday.
Hubby went to the neighbour's and they had already returned the modem because they didn't realize it was ours. It had the wrong street number on it. How can anyone get numbers mixed up since ours is 13 numerals higher than the house across the street.
That was just the beginning. I phoned the ISP and they told me they couldn't ship another modem out until that one was returned. Say what? It was your mistake. So, I talked to a supervisor who said she would ship one but it wouldn't arrive until Tuesday or Wednesday, which I told her was unacceptable, since they had made the mistake in the first place. She assured me she would rush it right out to me.
On Sunday morning, we lost all Internet connection. Until that time we had been able to get online infrequently. No more. So, once again (I believe this was the 8th time) I called my ISP tech. He said that there was no modem on its way. The supervisor had cancelled the order because I had said the delivery time was unacceptable. Grrr!!
By this time, I was fuming. It had been over a week and still no modem. The tech guy tried to get me online but to no avail. We rebooted, we shut down, we tried a million things but no luck. He told me to try again in a couple of hours. I did...no go!

I phoned a store here in town that is owned by my ISP. Yes, they had modems. No, she couldn't let me have one. Only new customers could have a modem. I would just have to wait.

In the meantime, my writing deadline came and went, so no more submissions for October. Wonderful. That is perfect.

Anyway, this morning the modem arrived bright and early and we are now back online, but what a week. I placed a call to my ISP executive office to put in a complaint at 9am this morning. Guess what? They were too busy to take my calls. The answering machine said to leave a message and someone would get back to me. Nope. Never heard a word from them all day. Well, maybe tomorrow...
Wishing you a great week...this one will be better for us.