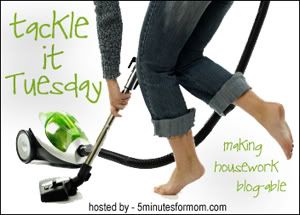 Tackle it Tuesday is a day when we show or tell about a project that we've completed. Well, I've completed this task several times since we started renovations and on Saturday when the thunderstorm knocked out my old computer, this is what my desk looked like.
Earlier in the day, hubby had been pulling lath and plaster off the ceiling in the living room so when the plumber arrived Monday he could access the pipes to the upstairs bathroom. So, not only was the computer desk littered with papers and other things that I was working on, it had a lot of plaster dust on it. The above photo is what it looked like.
Sunday I tackled that chore and this is what it looks like now. What a relief to have everything looking so much better. This room seems to get cluttered easily because of my writing. Thank goodness we are finished pulling down plaster, as I wouldn't want my new computer to be covered with all that dust.
I'm quite happy with this new look and I love my new flat screen and computer. So that is my Tackle it Tuesday for this week.

If you would like to participate in Tackle it Tuesday, follow this link to 5 Minutes for Mom. It's a great incentive to tackle both big and small household chores.