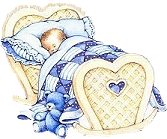 Patriot at
Made in the USA
is hosting a Giveaway. "For this giveaway, one winner will receive a bib of their choice, and a second winner will receive an outfit of their choice!!!" These baby apparel items are really cute. Be sure to follow the link and check out the Giveaway. It's going to be a lot of fun to see who wins these wonderful items.
---------------------------------------------------
----
In other news, Tina of
Tina's Odds and Ends
tagged me for the meme "What would I write if I had an extra hour every day?"
I had already taken part in this meme when Michele from
Writing the Cyber Highway
tagged me. However, I wondered if I could come up with anything else to write with an extra hour each day. This is what I discovered:
I would begin to write poetry again. All I have to do is see a beautiful picture and I can write a poem about it - or see something in nature that inspires me - or someone can say or write something that gives me a picture and I can write a poem about it. I love writing poetry and wish that I had more time. I will post a poem that I've written one of these days.
I would write more often in my grandsons' journals if I had an extra hour a day. Maybe that doesn't count because I think I said that in the last meme.
I would write more family stories, such as this one I wrote about
The Old Pump
. I love writing memoirs of my childhood and really should put all of these stories into a book.
I'm not sure who to tag this time so I will leave it open. Anyone who reads this is welcome to participate. If you do, please leave a comment so I can read your post.